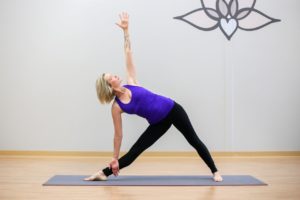 Transform Your Life and the Lives of Others!
STARTS JANUARY 2018!!
The RajaHatha School of Yoga first began offering 200-Hour Teacher Training in 2004 and has graduated teachers annually since, under the direction of Amy Pearce-Hayden, ERYT-500 The Level I Yoga Teacher Training is an intense 6-month program appropriate for students ready to explore how teaching Yoga can change their life and the lives of others, or for students who wish to go deeper into their personal Self-Realization through the traditional practice of Yoga. Many students embark on this path for personal Self-transformation and healing, rather than having teaching as their primary goal. This RajaHatha Foundation Course and its instructors meet the standards of Yoga Alliance and awards National Certification upon successful completion.
Build a foundation for lifelong healing and growth.
About RajaHatha Yoga Teacher Training:
Throughout the intensive 6-Month Training, students will explore the ancient science of Yoga with in-depth focus on asana, pranayama, meditation, personal study and Self- exploration, ancient yogic text study (with a focus on Patanjali's Yoga Sutras), and other yogic philosophy, study of the physical, mental, energetic, emotional and spiritual bodies, as well as anatomy/physiology, teaching methods, yogic ethics, and the healing, restorative and therapeutic aspects of Yoga . The Training is appropriate for students who wish to deepen their Yoga practice and knowledge of the science, want to become certified teachers, or already teach and desire to continue their studies. Students who emerge with certification will have a very solid foundation on which to teach Yoga, in addition to have gained tremendous experiences that are often life-transforming.
About the Faculty
All Yoga instructors are recognized in their training by Yoga Alliance and are certified. Our instructors strive to live their yoga and share their knowledge as part of their life service (Karma). The Program is Directed by Amy Pearce-Hayden, ERYT 500 whose formal Yoga study began in 1995 as part of her training as a professional actor, and has now become her daily education and practice. Amy is the founder of The RHSOY, and carries this simple philosophy: "Absolutely everything is connected. Our practice is in becoming present in the moment to allow for that reality and magic to joyfully unfold." Her classes, workshops and private instruction can be found available throughout the NYC metropolitan area, Madison, WI and streaming online. Amy has studied Yoga in India and also under the guidance of many western yogis. She received her Certification in Yoga that placed focus on the branches of Raja, Hatha, Jnana, Bhakti, and Tantra Yoga as well as Ayurveda. Amy has been leading the RajaHatha School of Yoga's Teacher Training program since 2004. 2016 will mark the 12th annual program. Most recently Amy's "YouYoga" online streaming classes can be found inspiring thousands at www.youyoga.me. Amy has also been featured regularly in "Yoga International" Magazine both as a contributor and cover model. Additionally Amy has been named "Female Entrepreneur of the Year" of Putnam County, NY. Faculty guest teachers include local and international instructors as well as the support of Senior Teachers as One-to-One Mentors. Our Senior Teachers play an integral role in our Mentorship Program. Participants of the program, are paired with a senior teacher to aid in their study and assist by offering their heartfelt guidance on the path.
STARTS JANUARY 2018!!
Friday nights = 3 hours, Saturdays = 9-10 hours, Sundays = 8 hours
For more information and to Apply:
call: 845-629-0459 (Amy)
Email: amy@flywithkula.com
Web: www.pearcehaydenprojects.com